Driveways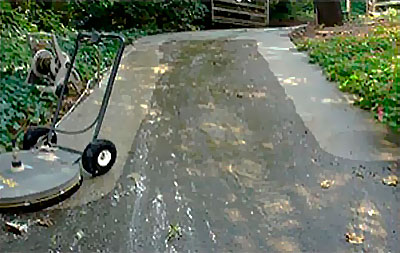 Pressure Washing concrete removes unsightly mold, dirt, and stains. Clean Spray Corporation strives on doing the best job for a competitive price. We retain your confidence with our professional services. Our cleaning process will transform and protect your investment. Clean Spray is a trustworthy Corporation with friendly staff who are fully trained, fully insured and have your interests at heart. We guarantee you won't be disappointed in the services we provide.

Driveways can easily become dirty and unsightly. However, this doesn't mean that they cannot be cleaned to look immaculate and just new. When cars are parked day in and day out at the same spot, the place is readily going to get damaged. Cars leave much more than tire tracks on the driveways. They also leave oil stains and various types of chemicals that can create stains or damages. Besides, concrete surfaces in Florida can more readily turn black because of algae and mold. We at Clean Spray Corporation can remove the most difficult stains and restore your driveway to its original look.


Comprehensive Driveway Cleaning
We clean all types of driveway surfaces that include concrete, paver, slate, brick, and others. Proper driveway cleaning can always set your house apart from the neighborhood. A clean and well-maintained driveway is also the first thing that your guests will notice. At times, dirt, algae, mold, and mildew can build and grow to a level that the driveway can even become slippery. This can increase safety risks for you and your family. Over time, different types of stains can develop including dirt, puddle, oil, and rust stains. Professional driveway cleaning involves going beyond restoring the looks. Our experienced cleaning experts will kill the algae and mold and remove all the contaminants so that they don't return quickly. We will turn your driveway to look like it has just been paved.


Why Choose Professional Driveway Cleaning?
When it comes to driveway cleaning, proper pressure washing is required. Only experienced professionals can tell what pressure and chemicals are suited for each surface type. Handling the pressure washer and preventing any damage is an art, something that takes years of master. Pressure washing equipment can severely damage surfaces and people when not handled by professionals. We use a combination of pressure and soft washing solutions to achieve optimal results.

So, let the professionals handle your driveway cleaning tasks while you can enjoy Florida's beautiful sunshine. Our services will increase your curb appeal and make your house feel more like home.

Keeping the driveway clean and free from algae, mold, moss, oil stains, and rust stains is important not just for aesthetic reasons but also for the purpose of safety. If one or more of these shows up on the surface, it can become dangerous to drive or walk on. Besides, this also increases the risk of tracking the mold, oil, and mildew into your home. Reach Clean Spray Corporation today if your driveway doesn't look normal. We can be reached at (321) 256-0523 or you may also write to us through our Contact Form.