Paver Cleaning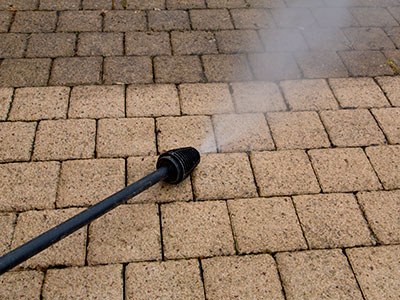 Brick pavers can add interest and detail to your outdoors. If you notice that your paver patio is beginning to look dirty and dull, it must be time to give them a professional cleaning. You may already have tried cleaning the pavers but have not achieved the desired results. We at Clean Spray Corporation bring dirty, dull, and greasy stone, concrete, and paver patios back to life with our special cleaning services. Our services are available in most cities and towns in Florida.


Need for Paver Cleaning in Florida
Bricks and many other paver surfaces, when exposed to moist conditions and rain will absorb water. Over time, the impact of moisture, evaporation, and sunlight can cause damage to your pavers. The absence of regular maintenance makes pavers vulnerable to weed and moss growth. Stains from grease or food spills can further create unsightly looks over time. Besides, efflorescence from evaporation can also cause mineral deposits on the surface. We can clean and restore the original looks of your pavers using the right methods.


Professional Paver Cleaning Services
Our cleaning methods are based on time-tested and proven concepts. These cleaning techniques focus on removing all types of deposits including dirt, grime, grease, and old sealant. Once the surface is cleaned, it can dry, sand is added if required, and UV-resistant and waterproof sealing may be applied.

Pavers must be sealed with professional-grade sealants after the surface has been cleaned. The right sealant ensures that the surface is protected against chemicals, saltwater, dirt, rainwater, and other forms of contaminants. Our paver cleaning process focuses on cleaning and protecting the paver and bringing the original colors of the material. Periodic paver cleaning and sealing help in avoiding expensive repairs and protecting your investment in the long term.


Steam Cleaning Services
Steam cleaning is an integral part of professional paver cleaning to make them look the best. The method uses the power of hot water and steam in breaking down the most difficult grime and dirt that may be hiding inside the pores of the surface. At the same time the high temperature helps in killing mildew and black mold that lives on the pavers.


Why Choose Our Paver Cleaning Services?
At Clean Spray Corporation, our paver cleaning services include steam cleaning of paver pool deck, driveway, and paver patio. Our experienced and well-trained experts clean all the different types of pavers installed in Florida including natural stone, travertine, concrete pavers, clay brick and other brick pavers, and regular and stamped concrete.

We at Clean Spray Corporation provide proven and environment-friendly paver cleaning services in most cities and towns in Florida. Feel free to contact us today to get your pavers checked. Give us a call at (321) 256-0523 or use your Contact Form to write to us.